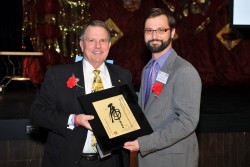 From left: Iowa Sen. Daryl Beall presents the award to Kirk Martin.
Drake University's Chinese Cultural Exchange Program has been honored by the Chinese Association of Iowa as the 2009 Chinese Achievement Award winner for Education Agency of the Year.
The award is given to educational institutions that demonstrate exemplary practices or programs in the following areas:
Curriculum development, staff development or administrative
practices to improve or provide more equitable educational
opportunities for children and youth
Enhancement of communications within and among local school districts for ethnic groups
Promotion
and development of state and regional delivery systems which bring
about creative, efficient and effective education for diversity and
international understanding
Drake's Chinese Cultural Exchange program, established
in 2004, offers American and Chinese faculty, students and graduates
opportunities for personal and professional development.
More than 110 graduates and nearly 30 faculty members have lived
and taught in schools across China. The program also helps fulfill the
global citizenship aspect of the Drake mission and curriculum.
"Many of the Chinese Cultural Exchange Program's most productive
relationships were initiated with the help of the Chinese Association
of Iowa, its leaders and members," said Kirk Martin, director of the
program.
"For the program to be recognized by CAI this year shows that Drake
has made good use of those relationships in developing quality personal
and professional development opportunities for the students, faculty
and alumni of both Drake and its Chinese partner institutions. We are
so excited to be honored by CAI."
Kirk accepted the award at a ceremony following a Chinese New Year dinner and award reception on Feb. 13.