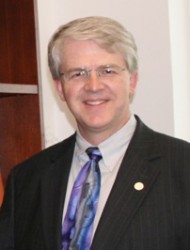 Michael J. Renner
Michael J. Renner, Drake University provost, recently was named Iowa Space Grant Consortium's presidential representative.
Renner succeeds Ronald Troyer, who retired as provost in 2009 and now serves Drake as senior counselor for international initiatives.
The Iowa Space Grant Consortium is a NASA-supported organization that promotes aerospace education and research. The consortia was formed in 1990 by the three Regents' universities (Iowa State University, the University of Iowa and the University of Northern Iowa) and now includes Drake, as well as affiliates from government, industry and non-profit organizations.