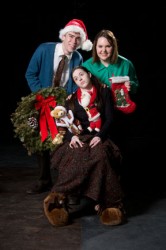 From left: Drake's production stars Tyler Lubinus as Bri, Kelly Lawler as Joe and Carrie Gabbert as Sheila.
Drake University Theatre's production of "A Day in the Death of Joe Egg," a dark comedy about the plight of a couple struggling to raise a child with disabilities, concludes today. The final performance will start at 2 p.m. in Studio 55 of the Harmon Fine Arts Center, 25th Street and Carpenter
Avenue.
Written by Peter Nichols and directed by Drake's Daniel B. Goldberg Artist in Residence Clive Elliott, "Joe Egg" explores the impact a child's handicap can have on parents, family and friends.
The play, set in 1960s England, gives an extremely taboo subject a raucously humorous treatment.
"Joe Egg" goes beyond entertainment, however.
Playwright Nichols and his wife were themselves the parents of a severely handicapped daughter, giving the play elements of an autobiography.
"I like the mixture of pain and pleasure that the play gives an audience," Director Elliott said.
Elliott is no stranger to the play — he performed in the show soon after its 1967 premiere in London.
"Joe Egg" is Nichols' most famous play. It was included in the National Theatre's list of the 100 most significant plays of the 20th century. The play has been produced on Broadway and has been revived numerous times, the last starring actor and comedian Eddie Izzard in 2003.
This play contains mature content not intended for children.
Tickets are $5 for adults, $3 for students and senior citizens, and $1 for those with Drake ID. Tickets are available at the Fine Arts Center Box Office. Reservations may be made in person or by calling 515-271-3841.