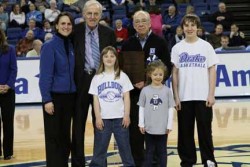 Athletic Director Sandy Hatfield Clubb and Don Adams celebrate with Hanson and his grandchildren.
Drake University Campus Security Chief Hans Hanson recently received the Donald V. Adams "Spirit of Drake" Award for his commitment to students, athletics and the University.



The award was presented to Hanson at halftime during the women's basketball game against the University of Northern Iowa on Jan. 22.



Hanson joined the Drake family in 1991, retiring as lieutenant from a successful 19 year career with the Des Moines Police Department.
In his tenure, he has professionalized the Drake Security Department and served as security liaison for presidential debates on campus. He also has overseen the planning and implementation of security plans for athletic events.
"Chief Hanson is a strong advocate of our students and has been an active campus community leader for many years," said Mark Kostek, assistant athletic director for Bulldog Club Annual Fund and special events.



"He is one of the great constants and sound voices of reason for Drake University and the Athletics department."



A teacher at heart, Hanson holds both his bachelor's and master's degrees in education from Drake.
The "Spirit of Drake" Award was named after Adams, who has demonstrated and defined the spirit of Drake University. He has served as an administrator, mentor, role model, leader, adviser, teacher and friend, to countless students, faculty and staff at Drake.



In honor of his leadership, Drake presents the award annually to a faculty or staff member who exemplifies the true spirit of the institution.



Past award winners are:

Renae Chesnut, associate professor of pharmacy practice and associate dean for academic and student affairs in the College of Pharmacy and Health Sciences
Wanda Everage, vice provost for student affairs and academic excellence
Mary Edrington, assistant professor of marketing
David Wright, associate professor of journalism and associate dean of the School of Journalism and Mass Communication
Deneen Dygert, associate director of admission
Drake President David Maxwell
LouAnn Simpson, professor of business law and director of the School of Accounting
Mike Cigelman, associate athletic director of facilities and director of recreational services
Jean Berger, former associate athletic director