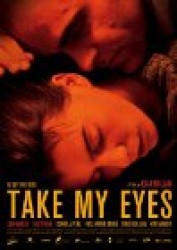 Drake University's Center for Global Citizenship will begin the spring International Film Series with a showing of "Te Doy Mis Ojos," a Spanish romantic drama on Sunday, Feb. 7.
The film by Iciar Bollain will be shown at 2 p.m. in room 101 of Meredith Hall, 2805 University Ave. Brian Adams-Thies, Drake assistant professor of anthropology, will give a brief introduction to the film.
"Te Doy Mis Ojos," which translates to Take My Eyes in English, was released in 2005 and won seven Goya Awards, including Best Picture, Director, Lead Actor and Actress.
The film focuses on a woman named Pilar, a battered wife who escapes her abusive husband Antonio with her son. Pilar takes asylum at her sister's home and struggles with starting a new life and still being in love with her husband.
For more information, contact David Skidmore at david.skidmore@drake.edu. View the complete schedule for the International Film Series at https://wwww.drake.edu/international/cgc/eventss10.php.