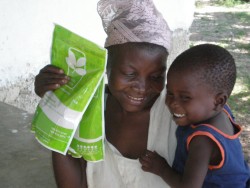 A Haitian woman and child with Medika Mamba, which means "peanut butter medicine" in Haitian Creole.
Drake University students are raising money for earthquake victims as part of Haiti Relief Week, which began Sunday with a dodgeball tournament.
T-shirt sales will begin on Tuesday, Feb. 9, in the breezeway and Student Life Center in Olmsted Center, 2875 University Ave.
The fundraising efforts will culminate in a Drake Faculty and Staff Karaoke Auction starting at 4 p.m. on Wednesday, Feb. 10, on the Pomerantz Stage in Olmsted Center. Dolph Pulliam, director of community outreach and development at Drake, will serve as emcee for the event. Participants are expected to include Dean of Students Sentwali Bakari and several faculty members.
Kovie Biakolo, event coordinator for the African Students Association, and Earl Lee, president of the International Students Association, launched the relief effort. They invited other student organizations to join them, and now the Student Senate, Student Activities Board and the Sports Business Association are involved as well.
All funds raised through Haiti Relief Week will be donated to Meds and Food for Kids, a St. Louis-based nonprofit group that produces Medika Mamba, a nutrient-rich food designed to aid the health of starving children in Haiti.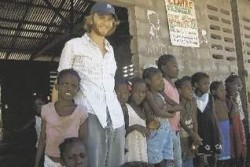 Drake alumnus Tom Stehl with children in Haiti.
Tom Stehl, a 2001 Drake graduate, is operations coordinator for Meds
and Food for Kids, which buys much of its raw materials from Haitian
farmers.
The agency promotes economic as well as agricultural development in
Haiti by employing more than 20 Haitians at its factory that produces
Medika Mamba, which means "peanut butter medicine" in Haitian Creole.
The ready-to-eat food consists of peanuts, milk powder, vegetable oil,
sugar and a vitamin/mineral compound.
Ed Monroe, a Drake pharmacy graduate, has seen firsthand how Medika Mamba helps malnourished children.
"As a pharmacist involved in medical missions to Haiti, I can
personally verify how important the Medika Mamba program is," he said.
"We use it for our failure-to-thrive babies and hope to expand the use
of it as we obtain more donations."
Biakolo, a native of Nigeria who is majoring in politics and
marketing, called Stehl to learn more about Medika Mamba and Meds and
Food for Kids.
"In talking with Tom, I learned about the program and how the group
had been helping Haiti prior to the earthquake," Biakolo said. "That
was really moving. Also, the idea of Medika Mamba as a therapeutic food
for malnourished children is fascinating."
Although no specific goal has been set for Haiti Relief Week,
Biakolo added, "we want to raise as much money as possible because the
need is so great."
Stehl said he was gratified to learn that the funds raised through
Drake's Haiti Relief Week will be donated to Meds and Food for Kids,
which is struggling to keep pace with the escalating numbers of
malnourished children in the aftermath of the earthquake.
"There were 250,000 malnourished kids in Haiti before the
earthquake, and we have no good estimate as to how many more there will
be," said Stehl, who was a National Alumni Scholar at Drake.
"We're already seeing more kids streaming into nutrition clinics
now that we're into the second wave of the crisis," he added. "This was
a catastrophe before the earthquake. It's off the charts now."