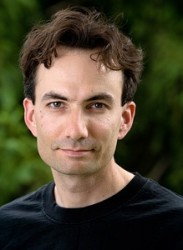 Adam Sitze
Drake University alumnus Adam Sitze, who teaches at Amherst College, will lead a seminar at 3:30 p.m. Friday, Feb. 5, on "South Africa's Truth and Reconciliation Commission: Beyond Transitional Justice."
The seminar, which is free and open to the public, will start at 3:30 p.m. in the Honors Lounge of Medbury Hall, 2730 Forest Ave. The event is sponsored by
Sitze, assistant professor of law, jurisprudence and social thought at Amherst, has a forthcoming book titled "The Impossible Machine: A Genealogy of South Africa's Truth and Reconciliation Commission."
During his visit to Drake, Sitze also gave a lecture Thursday evening on "Rethinking South Africa's Truth and Reconciliation Commission."
Both the seminar and lecture are sponsored by the Drake University Center for Global Citizenship and Drake University Center for the Humanities.
After graduating from Drake in 1996 with a bachelor's degree in English and rhetoric, Sitze earned a Ph.D. from the University of Minnesota, where he was a MacArthur Scholar. He was appointed to the Amherst faculty in 2005.
In 2008, Sitze received an International and Area Studies Fellowship funded by the American Council of Learned Societies, the Social Science Research Council and the National Endowment for the Humanities.