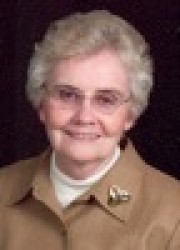 Mary McCauley
Mary McCauley, pastoral administrator of St. Bridget's Catholic Church in Postville, Iowa, and Mark Grey, professor of anthropology at the University of Northern Iowa, have canceled their presentation on the demographics of immigration.
The free, public talk had been scheduled for 5:15-6:15 p.m. Tuesday, Feb. 9, in Sheslow Auditorium in Old Main, 2507 University Ave.



The event, which is part of a series of presentations that Drake's choral program has organized on issues of immigration, homelessness and housing, will most likely be rescheduled for later in the semester.
The series aims to provide context for an upcoming performance by the Drake Choir, Chamber Choir and Drake University/Community Chorus.
The concert, "Where You Belong," is designed to help singers and listeners connect to key societal issues through music and to elicit a spirit of service in the community.



"Choral music is an especially important vehicle for helping people to understand that they are part of something much larger than themselves," said Aimee Beckmann-Collier, Drake director of choral studies.



The concert is scheduled for 3 p.m. on Sunday, April 18, on the Jordan Stage in Sheslow Auditorium.



The presentation series will continue through March 2 on Tuesday evenings from 5:15-6:15 p.m. in Sheslow Auditorium. The remaining events are:

Feb. 16 – "Safe and Affordable Housing," by Sister Stella Neill, founder and director of Anawim Housing in Des Moines
Feb. 23 – "The Refugee Experience," by Sol Varisco, program director of outreach services at Catholic Charities in Des Moines
March 2 – Volunteer Fair, featuring 15 local agencies that provide help for immigrants, refugees and individuals dealing with housing issues