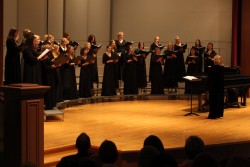 Drake Chorale, under the direction of Barbara Sletto, performs at Drake University.
In anticipation of National Women's History Month, the Drake University Chorale will celebrate the contribution women have made to music by performing with female vocal ensembles at the Annual Women's Choral Festival on Sunday, Feb. 7.
The festival, which is free and open to the public, will begin at 4 p.m. at St. Mark's Lutheran Church, 1115 Grand Ave. in West Des Moines.
The recital, featuring women ages 14 to 70, also will include Iowa ensembles:

Heartland Youth Choir Women's Ensemble
Central College Women's Ensemble
Simpson College Women's Choir
Faith Lutheran Church Women of Faith Choir
Barbara Sletto, director of the Drake Chorale and founder and artistic director of the Heartland Youth Choir, spearheaded the Annual Women's Choral Festival in 2006.
"There are many fine women's choirs in our community," Sletto said. "I wanted an opportunity to showcase them, and I felt that they could learn much from each other, as well as a guest conductor.
"Events are limited that connect universities and colleges in partnership, rather than competition."
Each choir will sing several songs and then join together to perform two final pieces under the direction of Rebecca Gruber, this year's guest director and clinician.
Gruber has conducted the Des Moines Public Schools Honor Chorus, the Southwest Iowa Children's Honor Choir, American Baptist Summer Music Conference and in All-State clinics throughout the Midwest.
The Drake Chorale is a select women's ensemble of 30-36 singers. The choir recently performed with the Des Moines Symphony and frequently has collaborated with other collegiate women's ensembles, as well as the Seoul Women's Chorus of South Korea.
Singers in the Chorale are both music majors and students majoring in academic disciplines from all colleges and schools of the University.