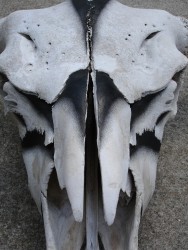 A "Wild Horse" skull sculpture by Scott Robert Hudson.
CONTACT: Tory Olson, 515-271-1834, tory.olson@drake.edu
As part of the Anderson Gallery's "To Know the Land" exhibit, Drake University will host a Forum on Visual Art and the Environment on Thursday, Feb. 4.
Free and open to the public, the interdisciplinary forum will be held from 5-6:30 p.m. in room 336 of the Harmon Fine Arts Center, 25th Street and Carpenter Avenue. Due to limited seating, reservations are requested at 515-271-1994.
The forum aims to explore the relationship between environmental art and language behind the "To Know the Land" exhibit, which features visual sculpture and art paired with narrative writing and storytelling.
The following Drake faculty members will speak at the forum:

Amahia K. Mallea

, visiting assistant professor of history, who received a bachelor's degree in history from Portland State University and a master's degree and Ph.D. in history from the University of Missouri-Columbia

Thomas Rosburg

, associate professor of biology and director of Drake's environmental science and policy program, who holds a bachelor's degree in biology, master's degree in plant ecology and a Ph.D. in ecology and evolutionary biology all from Iowa State University

Lisa West

, assistant professor of English, who received a bachelor's degree in English and environmental studies from Williams College and a Ph.D. in American Literature from Stanford University
Topics will include the landscape's effect on romantic literature and transcendental thought; environmental history and the effect of photography on visual culture.
"The Anderson Gallery is proud to bring together scholars from different walks of life whose research interests and areas of expertise just happen to intersect at a crucial and very timely and topical point," said Gallery Director Matt Selsor.
"Because the visual culture has both influenced and been influenced by the environment and the literary world, it therefore stands to reason that our understanding of the visual will be greatly enhanced through a greater awareness of these influences."
The "To Know the Land" exhibit, which is free and open to the public, continues through Feb. 26. Gallery hours are noon to 4 p.m. Tuesday through Sunday.
For more information on the exhibit or the forum, contact Matt Selsor at 515-271-1994 or matt.selsor@drake.edu.