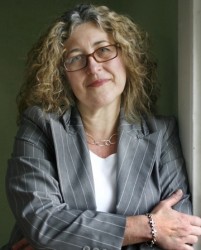 Ann Kovalchick
MEDIA CONTACT: Tory Olson, 515-271-1834, tory.olson@drake.edu
Ann Kovalchick has been named Drake University's chief information technology officer after serving as deputy chief information officer at Tulane University in New Orleans.
Kovalchick, who will begin her duties at Drake in February, has served Tulane since 2005 in several capacities. She was instrumental in helping Tulane recover from Hurricane Katrina through her work to rebuild a collaborative team and devise new strategies.
"Her strong credentials, record of effective planning and implementation of campus technology projects, and personal characteristics make her ideally prepared for her new role," said Drake Provost Michael J. Renner.
"I'm looking forward to working with the Drake community as well as appreciating the many benefits offered by living in Des Moines," Kovalchick said. "During my last visit, I was cheered by the good humor and authenticity of everyone I met as well as an approach to problem-solving that was collaborative and open to new perspectives."
Coordinating with a team of 100 staff members at Tulane, Kovalchick managed day-to-day operations and established new initiatives, such as a multi-year plan to bridge technical support for central and decentralized campus communities.
Prior to her work at Tulane, she was founding director of the Center for Innovations in Technology for Learning and Academic Technology at Ohio University from 1998-2005.
She has directed strategic planning efforts at both Tulane and Ohio that resulted in a clear path for technology use and a framework for prioritizing projects and funding processes to achieve goals at each institution.
In her new role at Drake, she plans to:

Facilitate a conversation on campus about the role of technology at Drake
Deliver technology services that enhance the user experience
Build on the already established strengths of the Office of Information Technology
"To truly establish the value of technology, Drake's portfolio of IT projects and services must align with its mission and goals," Kovalchick said.
"I also look forward to working with the university community to identify and prioritize strategic and operational objectives for achieving that alignment."
Kovalchick, who has given numerous presentations at higher learning conferences, is also an active member of EDUCAUSE, a nonprofit association whose mission is to advance higher education by promoting the intelligent use of information technology.
She also has worked as a media producer for several groups including:

Project Hope in Tegucigalpa, Honduras
United States Agency for International Development
United States Peace Corps in Belize City, Belize
Ohio University Nigeria Partnership project
Kovalchick holds a Ph.D. in education from the University of Virginia, a master's degree in anthropology from American University and a bachelor's degree in communication from Ohio University.