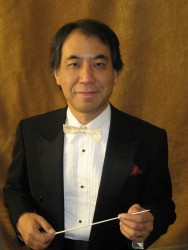 Director Akira Mori
On Wednesday, Jan. 27, the Drake Symphony Orchestra, directed by Akira Mori, will perform its Dec. 9 concert, which was postponed due to a snowstorm that closed the University.
The concert, which is free and open to the public, will start at 7:30 p.m. on the Jordan Stage in Sheslow Auditorium in Old Main, 2507 University Ave.
The program will feature the Drake String Ensemble performing the world premiere of Forrest Pierce's "Jasmine Arrow Sutra," written in 2009 and featuring excerpts from "Sayings of the Buddha."
"This work was commissioned and written specifically for the Drake String Ensemble," said Mori, assistant professor of music. "In addition to premiering it at Drake, the string ensemble will travel to the University of Kansas, where the composer is a faculty member, to perform it."
The Jan. 27 concert also will feature the entire orchestra performing "Symphony in D Minor" by 19th-century Belgian composer César Franck. This piece has not been performed at Drake for several decades.
"I believe it has been 30 years since the last performance," Mori said.
For more information about the concert, contact the Music Department at 515-271-3975.