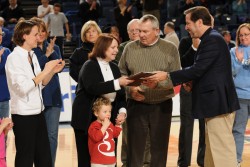 Drake Athletic Director Sandy Hatfield Clubb, left, and Drake President David Maxwell, far right, present the award to Jim and Patty Cownie, middle.
Jim and Patty Cownie recently were named recipients of the 2010 Golden Bulldog Award during halftime of the Drake-Illinois State men's basketball game at the Drake Knapp Center.
The Golden Bulldog Award is the highest honor bestowed upon a Drake booster by the Department of Athletics.
The award recognizes dedicated and loyal support of the Bulldog Club and the Athletic Department through consistent exemplary service, leadership and financial support.
Jim and Patty Cownie, who have been longtime members of the Bulldog Club, were leaders in the Drake Stadium Renovation project. Patty Cownie also serves on the Drake Board of Trustees.
Listed below are the past Golden Bulldog Award recipients.

1996 — Dale Peddicord
1997 — Ron Buel
1998 — Ellis Monk
1999 — Jim Berens
2000 — Sam Siegel
2001 — Lou Ann Simpson
2003 — Peggy and Doug Person
2004 — Bill Knapp
2008 — Kurt and Kathy Brewer
2009 — Mark Graziano