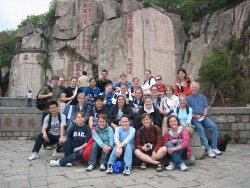 Students from last year's seminar pose for a photo during their trip.
Drake students and interested members of the community will have one more opportunity to enroll in and learn more about a summer seminar in China at three informational sessions this month.
The final session will be held on Wednesday, Jan. 27, at 3:30 p.m. in room 212 of Howard Hall, 2515 University Ave.

The seminar, titled "Considering China Today: Reading Its Past and Future in the Present," is a three-week, six-credit course focusing on contemporary Chinese culture and the effects of global change in China.
Community members may enroll as auditing students for whom coursework is optional.
The program qualifies as a sociology, psychology and honors class, and it fulfills a multicultural area of interest.
The trip to China is scheduled from May 24-June 11, 2010. Travel destinations include: Beijing, Tianjin, Dunhuang Grotto and caves, Tibet, Chongqing, Wudang Mountain, Shanghai and Suzhou.
Participants will have the opportunity to hear lectures from Chinese university faculty, interact with university students and visit with local Chinese families.
For more information, contact Joseph Schneider at joseph.schneider@drake.edu or Judith Allen at judith.allen@drake.edu.