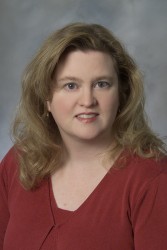 Jennifer Wohlenhaus Bloomberg
Drake University Teaching Artists of Music Jennifer Wohlenhaus Bloomberg, oboe, and Timothy Gale, bassoon, will give a recital on Friday, Jan. 22.
The free, public performance will begin at 8 p.m. on the Jordan Stage in Sheslow Auditorium in Old Main, 2507 University Ave.
The program, which reflects a variety of music styles, will feature:

"Sonata in C minor, RV 53" by Antonio Vivaldi, the only solo sonata written for oboe
"Six Metamorphoses After Ovid, Op. 49 for Oboe Solo" by Benjamin Britten, which was written to reflect the stories of six characters in Greek mythology
"Contrasts II for Oboe and Bassoon" by Eugène Bozza, a collection of seven short contrasting movements stylistically characteristic of 20th Century French music
"Trio Sonata for Flute, Oboe and Continuo in C Minor" by Johann Joachim Quantz, a work typical of the transition between late Baroque and early classical styles
Bloomberg and Gale will be joined by Carol lei Breckenridge, professor
of music at Central College in Pella, Iowa, on harpsichord and Sue
Odem, a member of the Des Moines Symphony, on oboe.
Bloomberg is principal oboist of the Des Moines Symphony and holds a
Master of Music in Oboe Performance from the San Francisco Conservatory
of Music. She earned her bachelor's degree in music from Drake, where
she teaches oboe, bassoon, theory and aural skills.
In addition to performances with the Des Moines Symphony, she performs
frequently with many ensembles in the Des Moines and central Iowa area
such as the Polaris Woodwind Quintet, the Des Moines Choral Society and
the Iowa Composers' Forum.
Gale is second bassoonist with the Des Moines Symphony and has appeared
with various professional ensembles throughout Iowa. He holds a
master's degree from the University of Iowa and a bachelor's degree
from the University of Northern Iowa, both in bassoon performance.