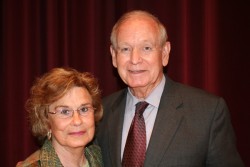 Billie and Robert D. Ray
Drake University's RaySociety for Lifelong Learning is offering 12 new courses as part of its spring program, including classes on Iowa's architectural landmarks, noted Iowa authors, as well as science activities for grandparents and grandchildren to share.
Other first-time offerings are:

Buffalo Bill's Wild West: The Synthesis of a Legend
Gardening for Life
In My House — Part II (Buddhism, Judaism and Sikhism)
Maximizing the Internet
Our Changing View of the Universe: Revolutions in Modern Astronomy
Perspectives on the Globalization of Business and Finance, Manufacturing, the Bio-Chemical Industry and Government
Qigong
Reality vs. Media: An Exploration of America's Immigration Past, Present and Future
Thirty-five Must-See Movies
The RaySociety offers a variety of social activities and classes on a wide array of topics. Current or retired Drake faculty members teach many of the classes. Activities planned for the spring semester include Drake's production of "Talk Radio" and guided tours of the new Iowa Gold Star Military Museum, the Science Center of Iowa and the Pappajohn Sculpture Park.
The RaySociety is named after two distinguished Drake alumni: former Iowa Gov. Robert D. Ray, who also served as the University's president, and Billie Ray, former first lady of Iowa and a former schoolteacher.
The RaySociety's annual membership fee is $50. Most classes cost $25 each. For more information and the registration forms, visit the RaySociety Web site or contact Rena Wilson at 515-271-2120 or rena.wilson@drake.edu.