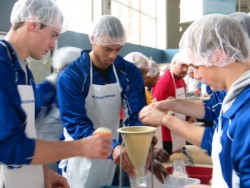 Drake University students, faculty and staff will kick off the spring semester by packaging meals for more than 50,000 people worldwide, in a partnership with Meals from the Heartland on Monday, Jan. 18.
Some 270 volunteers have registered to package meals and more than 30 other volunteers will help with the "Drake Feeds the Poor" event in the Field House, 2701 Forest Avenue.
There will be two shifts of volunteers. The first shift will run from 1:30-3:30 p.m. and the second from 3-5 p.m.
Volunteers will receive a short orientation prior to the packaging event and teams will then be placed at one of 15 working stations to package meals. The packaging event is free to all volunteers, who are encouraged to direct sponsors and donors to http://www.mealsfromtheheartland.org/donate/drake-feeds-the-poor.



For more information, contact Shanna Fountain, director of athletic academic services, at 515-271-2074 or shanna.fountain@drake.edu.