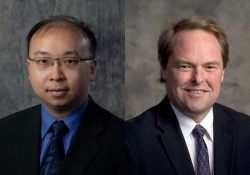 Peter K. Yu and Neil Hamliton
Drake law professors Peter K. Yu and Neil Hamilton are sharing commentary through Des Moines Register opinion columns on topics addressed at the United Nations Climate Change Conference in Copenhagen, Denmark.
In today's guest column, "What Copenhagen could signal about U.S., China," Yu explores the impact of the conference on the evolving relationship between the United States and China.
Hamilton, director of the Drake Agricultural Law Center, wrote an opinion piece in Wednesday's paper on the key role that agriculture plays at the Copenhagen climate talks.
His main point was that food security and climate change are inexorably linked, and any agreement coming out of Copenhagen that does not address the role of agriculture will not succeed.
Yu sees opportunity for increased cooperation between U.S., China
"The event will give us an opportunity to see the growing roles China and the United States can play together in international affairs," wrote Yu, the Kern family chair in intellectual property law and director of the Intellectual Property Center at Drake.
Yu characterized the meeting of President Barack Obama and Chinese Premier Wen Jiabao at the international forum as a good opportunity to build on Obama's recent visit to China.
"The conference follows up nicely to the president's recent visit to China, which cumulated in the release of a joint statement covering cooperation in a wide range of areas, including economic recovery, climate change, military cooperation, nuclear nonproliferation and cross-border crime control," Yu wrote.
Yu also stressed the importance of the Obama administration's "growing engagement with Asia."
Hamilton shares his observations from Copenhagen
Hamilton, who is attending the conference with Drake law students Keith Duffy and Amanda Atherton, is blogging about the conference from Denmark. They are among a delegation from Iowa and a group of scholars and students from the United States who are experiencing the conference through meetings and roundtable discussions.
Hamilton's blog recounted a keynote address by U.S. Secretary of Agriculture and former Iowa Gov. Tom Vilsack, who also served as a visiting professor at Drake Law School.
Vilsack's talk was part of the Agriculture and Rural Development Day at the University of Copenhagen College of Life Sciences. The University hosted more than 350 national representatives, farmers, government officials and academics.
Topics include: "the triple challenge to agriculture of increasing food productivity, climate resilience and greenhouse gas mitigation — and on unlocking the potential of emission markets for small farmers," Hamilton wrote in his blog.
Before heading to Copenhagen, Hamilton outlined his hope for the climate change talks in a guest column in the Register. Read his entire article, titled, "American farmers must step up on climate change," online. L