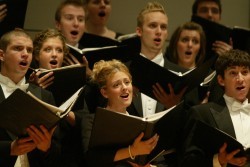 Members of last year's Drake choir perform a concert in Sheslow Auditorium.
CONTACT: Tory Olson, 515-271-1834, tory.olson@drake.edu
The Drake Chamber Choir, the University's select touring choral ensemble, will travel across the Atlantic to perform concerts in England from January 1-10.
Between performances, the 27 students in the choir will explore and sightsee, posting photos and blogging about their experiences daily during the tour.
Aimee Beckmann-Collier, director of choral studies, conducts the choir, which will perform concerts at:

St. Martin-in-the-Fields on Trafalgar Square in London
St. James Piccadilly in London
The Chapel of Saint John's College at Cambridge University
Bath Abbey in Somerset
Coventry Cathedral in West Midlands
Salisbury Cathedral
St. George's Chapel at Windsor Castle
The students will also have the opportunity to visit:

Stonehenge
King's College Chapel at Cambridge
St. Paul's Cathedral in London
Westminster Abbey
The Tower of London
Since 1992, Drake choral students have toured internationally to Austria, Germany, Italy and the Czech Republic. The Chamber Choir previously toured England in 2002 and 2006.
"The specific mission of the international tours is to enhance the students understanding of the context of the music they study," Beckmann-Collier said. "Our goal is to enable students to develop performance skills within the demanding schedule of international touring, deepen their understanding of themselves and their country by placing them in unfamiliar circumstances and to extend students' global understanding as they work, eat, travel and explore another country."
Eric Saylor, associate professor of music history, will travel with the choir to share his expertise as a musicologist of British culture and music.
"It's important for the students to understand both the musical and cultural significance of the places they'll visit on the tour because it provides context," Saylor said. "For instance, a cathedral is, by design, a pretty overwhelming place. To have some ability to make sense of its layout and purpose can help orient you when you perform.
"What makes the experience more real and more meaningful is if you can understand why you're visiting a particular site or what historical significance is tied to a location. Otherwise, you're just singing in a bunch of big empty buildings."
The Drake Choir tours throughout the United States annually and internationally every four years. The ensemble has sung in Carnegie Hall, for the American Choral Directors Association North Central Division conference and with the Des Moines Symphony.
For more information, call 515-271-2841.