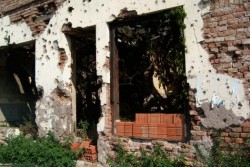 A photo by Nicole Wilke paints a picture of the damaged infrastructure of Croatia.
An article written by Drake University student Nicole Wilke has recently been featured on GlopalPost.com, an online-based international news agency.
Wilke's piece, titled "The 'Post-Apocalyptic' Border Town," was published last month. It describes the damaged infrastructure, social unrest and limited resources that have troubled Croatia since the nation's war for independence in the 1990s.
Wilke has studied abroad in the former Yugoslavia since the beginning of the fall 2009 semester. She will return to the United States in late December.
"We spent a few weeks in Zagreb, Croatia, a few weeks in Belgrade, Serbia, and a few weeks traveling through towns in Bosnia," said Wilke, a junior news-Internet and writing double major from Cedar Rapids, Iowa. "With each trip to a city, we spent time meeting with and talking to local activists who are trying to rebuild their respective countries after the wars.
"This experience has taught me a lot about the way countries and cultures rebuild after conflict, and how deeply war can scar a country and its people, even years after the war has ended."
Wilke's article was published under GlobalPost's student correspondent corps.
GlobalPost has been active since January 2009 and operates with more than 65 worldwide correspondents and contributors. The organization describes its mission as redefining international news for the digital age while promoting journalistic integrity, accuracy, independence and powerful storytelling.
The interviews and research for Wilke's article were conducted according to the structure of the SIT Study Abroad program. SIT Study Abroad organizes and promotes undergraduate education in nearly 50 countries worldwide.
"I chose this program because I wanted a study abroad experience that would allow me to meet local people and become immersed in a different culture," Wilke said. "Thanks to the program, I have been able to live with host families in Zagreb and in Belgrade."