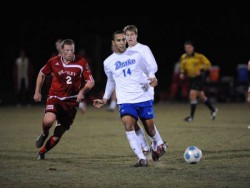 Garrett Webb
KANSAS CITY, MO. – Drake men's soccer senior Garrett Webb (Prairie Village, Kan./Shawnee Mission East) as he was among 15 semifinalists named for the 2009 Missouri Athletic Club's Hermann Trophy, the highest individual honor in college soccer.
Starting in all 23 games he has appeared, owns a team-best 13 goals (three game-winners), while adding five assists and tallying a team-high 31 points. He leads the Bulldogs into their Elite Eight NCAA Tournament contest at No. 4 North Carolina on Friday (Dec. 4) at 5:00 p.m. CT.
A three-time first team All-Missouri Valley Conference selection, Webb was tabbed as the MVC Player of the Year this season.
"The whole team is ecstatic for Garrett's achievement, they truly see it as both an individual and collect recognition of what we have all done this year," Drake head coach Sean Holmes commented. "Given a choice, Garrett is the kind of guy who would take the championship trophy over individual accolades, every single time."
Six teams left in the Elite Eight have a total of eight players representing the semifinalists, while Akron and Wake Forest; the nation's top-two rated teams lead the way with two selections each.
Rounding out the semifinalists were Teal Bunbury (Akron), Anthony Ampaipitakwong (Akron), Corben Bone (Wake Forest), Ike Opara (Wake Forest), Zach Loyd (North Carolina), Kyle Nakazawa (UCLA), Tony Tchani (Virginia), Andre Akpan (Harvard), Ryan Kinne (Monmouth), Danny Mwanga (Oregon State), Conor O'Brien (Bucknell), Colin Rolfe (Louisville), Toni Stahl (Connecticut) and Bobby Warshaw (Stanford).
Division I college head coaches with current National Soccer Association of America (NSCAA) will vote to determine the 2009 MAC Hermann Trophy recipient. Three finalists for the award will be announced next Friday, Dec. 11. They will be invited to the Missouri Athletic Club in St. Louis for a news conference on Jan. 8, 2010, where the winner will be announced. A dinner and formal presentation of the award will follow the news conference that evening.