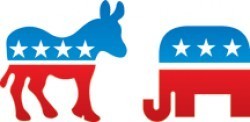 State legislative leaders will offer a preview of the upcoming session of the Iowa Legislature during the next IowaPolitics.com forum hosted by Drake University at 9:45 a.m. Wednesday, Dec. 16.
The event, which is free and open to the public, will be held in Levitt Hall in Old Main, 2507 University Ave.
Confirmed panelists include:
Assistant House Minority Leader Dave Deyoe, R-Nevada

Senate Majority Leader Mike Gronstal, D-Council Bluffs
Senate Minority Leader Paul McKinley, R-Chariton
House Majority Leader Kevin McCarthy, D-Des Moines
IowaPolitics.com Des Moines Bureau Chief Lynn Campbell will moderate the program, and questions will be accepted from audience members. The event later will be broadcast on the Mediacom Connections channel statewide and will be available for On Demand viewing on Mediacom Channel 1.
The forum is part of the "Cookies and Conversation" series presented by IowaPolitics.com and Mediacom. Wal-Mart and Mediacom are event sponsors and Drake University is an event partner.
Doors will open at 9:30 a.m. and taping of the show will be from 10 to 11 a.m.
Advance registration is required and there are several ways to register:

IowaPolitics.com is an independent, nonpartisan electronic news service offering a free Web site at www.IowaPolitics.com and paid subscriber products. For more information, contact Jim Greer at greer@iowapolitics.com or 515-309-2941.