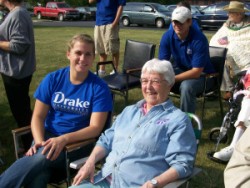 Mattie Robertson and Nick Dahlke
visit with residents
A group of Drake University pharmacy students volunteered to help
residents from Calvin Manor, a retirement community in Des Moines'
Beaverdale Neighborhood, at the Beaverdale Fall Festival Parade this
month.
The students volunteered to help the retired
residents as part of a geriatric service learning experience through
the Drake pharmacy program. The students, who are in their first year
of the professional pharmacy program, were:
• Rachel Herrild of Menominee, Mich.

• Mattie Robertson of Dallas City, Ill.

• Andy Wehrhan of Webster City, Iowa

• Jenna Denman of Lake Villa, Ill.

• Dan Ricci of Iowa City, Iowa

• Nick Dahlke of Waconia, Minn.

• Nick Skibba of Germantown, Wis.

• Jessica Poehls of Hartland, Wis.

• Ross Hogan of Pella, Iowa
The
students assisted by helping residents, many of whom are in
wheelchairs, to get to the curb to enjoy the parade and back to Calvin.
During the parade, the students also visited with residents and helped
them to retrieve candy from the parade floats.
"Taking
a few hours out of your day to help someone is always a worthwhile
experience," Herrild said. "I learned many new things about the elderly
population during the Beaverdale parade and would gladly volunteer for
this experience again. The happiness on the residents' faces to have us
there was enough to bring join to my day!"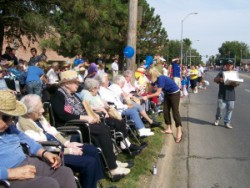 Rachel Herrild gives a resident
candy from the parade