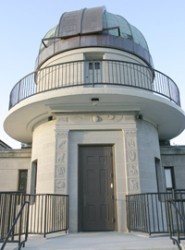 The Drake Municipal Observatory will host a Winter Observing Night on Friday, Dec. 11, that will include stargazing and a lecture about the mystery of the Star of Bethlehem.
The viewing of stellar objects through various telescopes will begin at 7 p.m., followed by the "Star Lecture" presented by Herb Schwartz, a lecturer in Drake's Department of Physics and Astronomy. The program is free and open to the public and the lecture will be presented regardless of the weather.
Schwartz notes that the Christmas Star or Star of Bethlehem "shows up in pictures and in song and it is as much a part of the Holiday Season as the snow on the ground."
Yet, he adds, there are many questions still surrounding the star, including:

Was it real or just a symbol of the season?
If it was real, why wasn't it recorded by the Chinese, who were meticulous observers?
How could it be so obvious to the Magi and be invisible to Herod, king of Israel?
If it was an object of an astronomical nature, why hasn't it happened again, since most astronomical phenomenon are repeated?
Schwartz will address those questions and answer questions from the audience.
The Drake Municipal Observatory is located at 4898 Observatory Road in Waveland Park on the west side of Des Moines. Parking is available adjacent to the observatory.
Individuals, families and small groups are welcome to attend the program. A parent or responsible adult must accompany children.
For more information, contact Drake's Department of Physics and Astronomy at 515-271-3141.