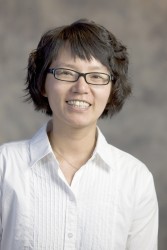 Peiqin Zhou
As a Chinese native, Peiqin Zhou has lived under a government that controls media, from television to the Internet.

The stark comparison between media in China and the United States inspired her to come to Drake University for the 2009-10 academic year as part of the visiting Fulbright Scholar program.
Other Drake connections helped pave the way for Zhou, as several Drake faculty and staff members have engaged in cultural exchange at Nanjing University. She serves as professor of sociology and earned her bachelor's and master's degrees at Nanjing.
Prior to returning to China, Zhou earned a doctorate in mass communications in 2003 from the University of Alabama, where she developed her expertise on media in the United States.
"I think most Chinese people would choose to stay in the United States after graduating from college here, but I wanted to return to China because the country is experiencing social changes in daily life," Zhou said. "I want to be part of that change by the influence and interaction I have with students."
Comparing media and culture
Zhou is co-teaching a course on the representations of women in mass media and politics with Drake Assistant Professor of Sociology Darcie Vandegrift, who served as a Fulbright scholar for the 2008-09 academic year. Read more about her experiences in Venezuela online. https://wwww.drake.edu/news/db/official/archive.php?article=4843
"Chinese media has been influenced by media from the United States, especially movies," Zhou said. "There are idealized women and female body images promoted in the media in China that are similar to those in the United States."
Zhou will take on a research project and hopes to study how universities in the United States promote environmental sustainability. She wants to bring back to China the idea of environmental advocacy shared by students, faculty and staff at Drake.
She's also enjoying interaction with students. She said students in the United States participate more in classes than their Chinese counterparts.
"In the United States, you might lecture for 30 minutes and then the students want to share their opinions on the subject," Zhou said. "In China, you will lecture for the whole class and the culture does not invite students to speak out and express their opinions as much as in the United States."
Exploring changes in China and the U.S.
Zhou is planning to teach two classes in the spring semester, one on the media culture in China and another on the social problems in the country. Like any society, China is experiencing positive and negative changes.
"Ten years ago, people did not have access to the Web sites for the New York Times or the Washington Post, but now they do," Zhou said. "At the same time, Chinese cities have changed. Population increases and environmental pollution have created social problems in the cities."
Changes in society and journalism are what brought Zhou back to the United States. After spending six years back in China, she was curious to see how the United States has changed.