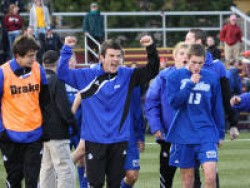 NEWTON, MASS. — Drake senior Luke Gorczyca (Overland Park, Kan./St. Thomas Aquinas) picked an opportune time to net his first career multi-goal game as his game-winning goal in the 69th minute (68:52) lifted the Drake men's soccer team to a come-from-behind 6-4 NCAA Tournament victory over Boston College Sunday, Nov. 29, in the Sweet Sixteen.
Drake now advances to the Elite Eight for a showdown at North Carolina on Friday, Dec. 4, at 5 p.m. CST.
"Each week seems to surpass the last, just when you think it can't be any better for the program and for the kids, something incredible happens," Bulldog Head Coach Sean Holmes said after Sunday's game. "To host and win our first game at home was great, and then to go to Ohio State and win a nail-bitter in overtime was amazing, and to come to Boston College and give up four goals and win by two is unlike anything I've ever experienced.
"Goals came from everywhere today, to be down two and come back to win 6-4 especially with Michael Drozd getting hurt and soldiering on and then to throw in Jordan [Kadlec], and for him to give up only one goal in the final 39 minutes is absolutely incredible."
Highlights from the game, including all goals and the postgame celebration, can be viewed for free online by visiting http://all-access.cbssports.com/player.html?code=ncaa&media=156253 and clicking on the highlight tab.
A story about the team's return to Des Moines on Monday is posted on the KCCI-TV Web site.
The 10 goals scored between the Bulldogs and Eagles originally was
thought to establish a new NCAA
Tournament record. Additional research showed, however, that record is
12 goals scored on two different occasions. The first in 1962 (Saint
Louis 9, Stanford 3) and the second in 1978 (Appalachian
State 9, George Washington 3).
The contest proved to a cornucopia of goals with both sides recording and allowing as many or more goals than in any of their previous contests this season. Boston College had not surrendered more than two tallies in any game this season, while only Memphis had registered four tallies in a 4-3 Bulldog loss on Sept. 13.
Karl Reddick got the scoring started in the affair, accepting a through ball from Mor Avi Hanan to find himself one-on-one with Drake redshirt junior goalkeeper Michael Drozd (Hardwood Heights, Ill./Loyola Academy) and he capitalized, netting his second goal of the season at the 17:35 mark to give Boston College a 1-0 lead.
The Eagles pushed the margin to 2-0 off a successful free kick by Avi Hanan that found the upper left corner of the net in the 30th minute (29:19).
Drake cut the deficit in half when redshirt sophomore Michael Noonan (Cedar Rapids, Iowa/Xavier) came out of a scrum in the box, nailing a deflection off of goalie Justin Luthy for his fifth goal of the year in the 31st minute (30:59). Earning the assist on the play was senior Garrett Webb (Prairie Village, Kan./Shawnee Mission East).
The contest appeared to be headed into halftime at 2-1 in favor of Boston College, but senior Kevin Shrout (Lee's Summit, Mo./Lee's Summit) had other ideas as he followed a deflection off his own free kick outside the box to net the equalizer with 14 ticks left in the first half (44:46) and send the game into the intermission tied at two.
Just before the goal, Drozd got tangled up in a hard collision in the box and was down for several minutes before finishing out the half. He started the second half, but was replaced by redshirt sophomore Jordan Kadlec (Hiawatha, Iowa/Cedar Rapids Kennedy) after a Drake defender and Drozd collided in the box at the 46:24 mark. That allowed Charlie Rugg to convert for Boston College with his seventh goal of the year, putting the Eagles ahead, 3-2.
From that point on,, the contest took on the feel of something surreal as the two sides combined to score five goals over the final 33:17.
Getting the onslaught started was Webb, who collected his team-leading 13th goal of the year on a wild play in the 57th minute (56:43), where he nailed a header that deflected off the crossbar and bounced down just over the goal line. The referee initially waved off the tally, but after conferring with the assistant referee, the score was posted with an assist to junior Nick Foster (West Des Moines, Iowa/Valley).
The scored remained deadlocked at three until Gorczyca began a span of 1:10 where three combined goals were scored. Shrout set up a free kick after a Boston College foul and was able to get the ball into the box, where Gorczyca flicked the ball into the net to give the Bulldogs their first lead of the afternoon at the 67:42 mark.
The advantage was short-lived as the Eagles knotted the affair at four on Kyle Bekker's fourth tally of the year in the 69th minute (68:44), off a one-timer.
A mere eight seconds later (68:52), Gorczya scored the game-winner in similar fashion to his first goal, to put Drake ahead to stay.
"Kevin (Shrout) played in a ball for the first goal, which I happened to flick on as the keeper came out and happened to go side net," said Gorczyca. "The second goal, Kevin played it again and I went towards the ball and flicked it as the keeper came out, kind of misjudged it, and it went over him. It was good to get a win away and great to continue this senior year another game."
Junior Matt Kuhn (Raytown, Mo./Raytown South) added the game's final score off a header on a feed from Foster at the 82:35 mark.
"The guys seem to feel that it doesn't matter what happens, where, how much we have to travel, nothing seems to get them down," Holmes said. "We've never lost perspective that this is not only about winning games, which is nice, but we get to have an adventure, come together as a team, see new cities and this has been part of the experience as well."
"It was a great game on both sides" Webb said. "The first 20 minutes was a complete shamble for us, but I know getting down two goals is always tough to come back. But like coach (Sean Holmes) said, we are an older group and it's nothing that we haven't seen before, nothing we haven't overcome before and it's just a different situation in a new place. I couldn't be more proud of our seniors, we talk about getting better every day, improving every 45 minutes and taking the next step and this was just the next step for us."
The Bulldogs garnered a 17-13 advantage in shots in the game with Kuhn pacing Drake with four shots. Boston College was sparked by a game-high five shots from Rugg.
Luthy led all players with three saves for the Eagles, while Kadlec collected one stop in 39:03 for the Bulldogs.
The tilt was a feisty one defined by physical play with 35 combined fouls called and five yellow cards issued.
Drake will look to continue the magic when it faces North Carolina on Friday, Dec. 4.