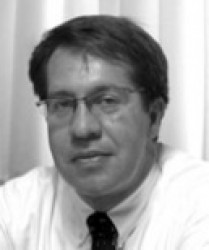 Scott Snyder
Scott Snyder, director of the Center for U.S. – Korea Policy at The Asia Foundation, will speak at Drake tonight (Nov. 30) about North Korea.
The lecture, "North Korea and the Six Party Talks," is free and open to the public and will begin at 7 p.m. in Bulldog Theater in Olmsted Center, 2875 University Ave.
Snyder serves as senior associate at Pacific Forum Center for Strategic and International Studies. He has lived in Seoul, South Korea for four years and served as Korea representative for The Asia Foundation.
He was previously a program officer in the research and studies program of the U.S. Institute of Peace and was acting director of The Asia's Society Contemporary Affairs Program.
Snyder has written several books including:
"China's Rise and the Two Koreas: Politics, Economics, Security" (2009)

"Paved With Good Intentions: The NGO Experience in North Korea" (2003)

"Negotiating on the Edge: North Korean Negotiating Behavior" (1999)
The lecture is sponsored by Drake's Center for Global Citizenship. For more information, send an e-mail to David Skidmore at
david.skidmore@drake.edu
.