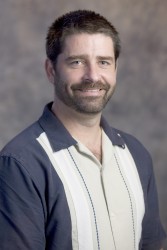 Ian Bartrum
Ian Bartrum, assistant professor of law at Drake, was selected to present the Association of American Law Schools Steven Gey Paper in Constitutional Law at the association's 2010 annual convention.
Bartrum, who joined Drake this fall, was chosen as an untenured faculty member to present research alongside a panel of legal professors at the convention, which will take place in New Orleans in January.
"This is an honor for Ian and a great opportunity to present with some of the most well-known senior constitutional scholars as a junior scholar," said Mark Kende, director of Drake's Constitutional Law Center.
"His accomplishment is another an example of the high quality of scholarship Drake looks for in our professors. We are lucky to have him," Kende added.
Bartrum's article — "The Constitutional Canon as Argumentative Metonymy" – explores the idea of the constitutional canon, or texts apart from the Constitution that have come to be accepted as fundamental law.
Bartrum comes to Drake from Yale Law School, where he served as the Irving S. Ribicoff Fellow in Law for 2008-09. The fellowship funds a year of research, writing and teaching, which enabled Bartrum to examine how the Constitution is presented in American high school classrooms in a book-length project.
Bartrum is a graduate of Yale Law School, earning a Master of Laws degree in 2008. He also holds a Juris Doctor degree from Vermont Law School in South Royalton, as well as a bachelor's degree in history from Hamilton College in Clinton, N.Y.