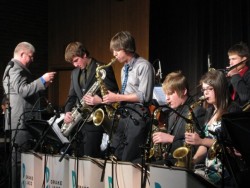 Members of Jazz Ensemble I perform at a recent gala in suburban Chicago.
Drake University's Jazz Ensemble I will perform at 7:30 p.m. tonight (Friday Nov. 20).
The concert, which is free and open to the public, will be in the Performing Arts Hall of the Harmon Fine Arts Center, 2505 Carpenter Ave.
Joel Poppen, who is serving as guest director for the fall 2009 semester, will direct the ensemble.
The first half of the concert will feature:

"Rivers" by Mike Tomaro
"Happy Go Lucky Local" by Billy Strayhorn and Duke Ellington
"Willow Weep for Me" by Ann Ronell and arranged by Bill Matthieu
"Joy Spring" by Clifford Brown and arranged by Charles Argersinger
"ChaChaNita" by M. P. Mossman
A brief intermission will follow the first set. The second set will include:

"Two Franks, Please" by Frank Foster
"Where or When" by Richard Rodgers and arranged by George Stone
"All Blues" by Miles Davis and arranged by V. Mendoza
"Chameleon" by Herbie Hancock and arranged by Jay Chattaway