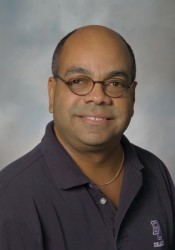 Hunter Clark
Hunter Clark, professor of law at Drake University, recently was featured in a special section on human rights law in the fall 2009 issue of preLaw magazine.
PreLaw is a National Jurist publication that is read by more than 45,000 students who are considering applying to law schools.
The question-and-answer style story explores the following questions:
What is human rights law?
How do people enter the field of human rights law?
What skills are most important to human rights lawyers?
What classes and law school experiences do you recommend?
How should a student choose a law school with this specialty?
When asked about getting into the field, Clark cited Drake alumnus Stephen J. Rapp, LW'74, as a good example of how a student can get involved with human rights law.
He said, Rapp "began his career as a criminal prosecutor in Iowa. Later he worked for the United Nations supervising the prosecution of individuals responsible for the Rwanda genocide and for human rights abuses in Sierra Leone."
Rapp recently was appointed U.S. ambassador-at-large for human rights issues under President Barack Obama.
In the story, Clark encouraged prospective students to "have an open mind — a receptivity to cultural diversity."
He also suggested that students should "understand that not all people see the world or view human rights the way we do in the United States."
In addition, the story puts Drake on the short list of places to study human rights law.
"Drake, for its part, offers an extensive array of international and comparative law and human rights courses," Clark said.
"Some are taught by resident faculty, while others are taught by visiting professors from foreign universities who have distinguished themselves and international legal scholars and practitioners."