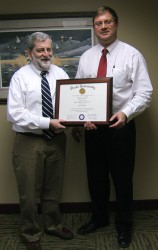 Dean Allan Vestal presents the new diploma to Martin Petersen.
Drake Law School Dean Allan Vestal recently visited Parkersburg, Iowa, to replace a law school diploma for alumnus and City Attorney Martin Petersen, whose firm was destroyed by a tornado.
Petersen, LW'91, had called the Law School to ask about getting a replacement diploma because the entire office of the Klinkenborg, Hansmann and Petersen law firm was destroyed when a tornado hit the town on May 25, 2008.
"We basically started back to work out of a double-wide trailer," said Petersen, who as city attorney for Parkersburg immediately turned his attention to legal matters essential to the community's rebuilding efforts.
The firm, which managed to save its records stored on computer hard drives, has since rebuilt it office.
Vestal also took the time in his visit to tour the town, which has been reconstructed to include an $18 million high school, new city hall and approximately 170 new homes.
"I was very impressed that the dean wanted to come hand-deliver the diploma, and by the support he showed for Parkersburg," Petersen said.