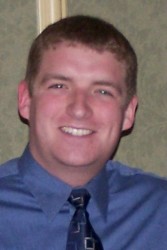 Zach Hindman
Drake law student Zach Hindman recently was selected for a one-year clerkship with Federal Judge Steven Colloton of the U.S. Court of Appeals for the Eighth Circuit — one of the most highly sought positions in the legal field.
Hindman was selected through the Federal Judges Law Clerk Hiring Plan, which allows third-year law students and law graduates to search a national database of clerk vacancies. The program, which is designed for all federal judges, specifies dates and times when judges may receive applications, schedule hiring interviews and extend job offers.
Federal judges may receive hundreds of applications for a single position, and successful candidates tend to perform at or near the top of their class.
Hindman, an Opperman Scholar, serves as editor in chief of the Drake Law Review, is a member of the Drake Moot Court Board and a member of the Drake Law School chapter of the Federalist Society.
He will begin as one of four clerks working for Judge Colloton in September 2010.
Originally a native of Sioux City, Iowa, Hindman will continue to live in Des Moines, where Colloton keeps chambers, but also will travel frequently throughout the district to hear arguments during court weeks.
The Eighth Circuit Court holds jurisdiction over districts in Arkansas, Iowa, Minnesota, Missouri, Nebraska, North Dakota and South Dakota.
As a clerk, Hindman will read trial records and written arguments from the parties involved in appeals and will research the law relevant to the cases.
"I will learn about the legal system from the judge's perspective," Hindman said, "which will help me in my practice when I am on the other side of the bench."
Judge Colloton, who has served on the Eighth Circuit since 2003, began his career as a law clerk for Judge Laurence H. Silberman on the U.S. Court of Appeals for the District of Columbia Circuit in 1988-89. He then clerked for Supreme Court Chief Justice William H. Rehnquist in 1989-90.
He later served as U.S. Assistant Attorney for the Northern District of Iowa and U.S. Attorney for the Southern District of Iowa.