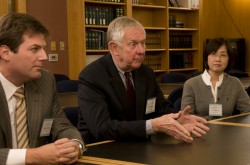 Ralph Oman, middle, speaks with conference participants.
The Intellectual Property Law Center at Drake recently hosted a conference that drew nearly 50 scholars from more than five regions in China and five countries.
The conference, "Intellectual Property Developments in China: Global Challenge, Local Voices," was held on campus and featured participants from:
China — Beijing, Chongqing, Hong Kong, Nanjing, Shanghai, Xi'an
Australia
Canada
United Kingdom
United States
"Although China has been repeatedly criticized for its piracy and counterfeiting problems, few scholars, commentators and policy makers have studied the country's recent intellectual property developments on their own terms," said Peter K. Yu, the Kern family chair in intellectual property law and founding director of the center.
"This unique conference fills the niche by bringing together both 'local voices' from China and Western scholars who have taught, lectured or conducted research in the country," Yu added.
"The event will be followed up by a published edited volume documenting the country's many impressive reforms in the IP area and its upcoming challenges."
Held shortly after the 60th anniversary of the founding of the People's Republic of China, the conference was specially designed to promote academic exchange between intellectual property scholars in China and other parts of the world.
Dr. Gao Lulin, the founding commissioner of the Chinese State Intellectual Property Office, served as the conference's keynote speaker. He discussed the recent amendments to the Chinese patent law.
In addition, Ralph Oman, the former register of copyrights of the United States, served on a panel and shared his views along with two Drake law alumni:
Daniel Cosgrove, of Pioneer Hi-Bred International Inc., LW'92
Kent Stevens of Cadwalader, Wickersham & Taft LLP,  LW'84
A repeat visitor to Drake, Oman also discussed the intellectual property lawmaking process with international experts and Drake students and faculty during his visit.
Oman said the conference was "provocative" and "dynamic," thanks to the three high profile Drake alumni who helped the conference earn his rave review.
"As the former U.S. Register of Copyrights, I enjoyed seeing many old friends and colleagues from the recent IP wars," Oman said. "But the real treat was meeting and listening to the rising stars of the new generation in China — the experts who will carry the Chinese IP laws and their administration into the 21st Century."
Drake's IP Center, which has recently been ranked by the U.S. News and World Reports among the top 25 intellectual property law programs in the United States, has a distinguished record of promoting intellectual property developments in China.
Since its establishment in fall 2007, the center has held major conferences in Hong Kong and Guangzhou. It has also supported lectures in Beijing, Guangzhou, Hangzhou, Hong Kong, Macau, Shanghai, Wuhan and Xi'an.