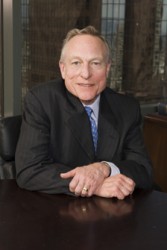 Ronald Olson
Drake alumnus Ronald Olson's Los Angeles law firm of Munger, Tolles & Olson LLP recently earned first place in the American Lawyer magazine's national elite law firm rankings for the second consecutive year.
This marks the firm's fifth appearance in the top-10 of American Lawyers' "A-List," including its first place ranking in 2008, which was the first time a California-based firm won first place. The firm, which now has 177 lawyers on staff, also took third place in 2004 and 2007.
"We at Munger, Tolles & Olson are pleased to repeat as the No. 1 law firm on the American Lawyer A-List," Olson, BN'63, said.
MTO scored high in several categories, which launched the firm to the top, among 20 law firms ranked, including Hughes Hubbard & Reed from New York. MTO defeated Hughes with a 34-point lead.
The Munger, Tolles & Olson firm's "A-List" scores in these categories are:
Revenue per lawyer — $1.17 million
Pro bono practice — 124 hours per attorney
Associate satisfaction —  176/200
Workplace diversity — 195/200
MTO increased its average pro bono hours to 124 from 88.6 hours per attorney from last year. In addition, the firm increased its score in workplace diversity to 195 from 187 in 2008.
According to the American Lawyer, the "A-List" "aims to measure and quantify the qualities that define an elite law firm, making an effort to look beyond profits."
As a lead partner at MTO, Olson has represented companies including Warren Buffett's Berkshire Hathaway for which Olson serves on the board of directors.
Olson, 67, has worked for non-profits including the Mayo Clinic, the Council of Foreign Relations, Southern California Public Radio and the California Institute of Technology.
In 1968, he joined MTO after serving as an attorney for the Civil Rights Division of the Department of Justice. He also clerked for Chief Judge David L. Bazelon, United States Court of Appeals for the D.C. circuit.
In addition to his degree in business from Drake, Olson holds a J.D. degree from the University of Michigan and a Diploma in Law from Oxford University.