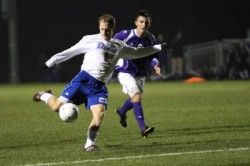 Senior Kevin Shrout scored the first of two goals for Drake in a 2-1 NCAA Tournament victory over Western Illinois on Thursday (Nov. 19).
The Drake men's soccer team's 2-1 NCAA Tournament victory over Western Illinois on Thursday sends the Bulldogs to the Buckeye State for a showdown with

No. 13 Ohio State today (Sunday, Nov. 22). Game time at Jesse Owens Memorial Stadium in Columbus is slated for noon Central time.
Streaming video is available online. Also, live stats are available at ncaasports.com. The winner of today's match advances to the third round on Nov. 29 against the winner of the St. John's-Boston College showdown.
Ohio State (12-4-4) was awarded a first-round bye by virtue of its No. 4 national seed. Senior Doug Verhoff and freshman Austin McAnena pace the Buckeyes in scoring with four goals apiece. Senior Andrew Magill and junior Konrad Warzycha are tied for the team lead with 54 shots each. Redshirt freshman goalkeeper Matt Lampson has posted 70 saves and owns a 0.72 goals-against average.
Drake is 0-2 against the Buckeyes, losing 3-2 in overtime on Sept. 25, 1998, in Omaha, Neb., and 1-0 in Columbus on Oct. 15, 1990.
Ohio State coach John Bluem has directed the Buckeyes to a 139-94-34 record (.584) in his 13 campaigns. Overall, as a head coach, he has a record of 225-121-47 (.632) in 18 years. Sean Holmes is 101-101-24 (.500) in his 12th season on the Drake sidelines and is 127-26 (.578) in 17 years as a head coach.