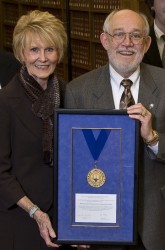 Jean and Bill Buchanan display their commemorative medal.
Drake University recently announced a $3 million gift from alumni Bill Buchanan and his wife, Jean, to establish the William M. and Jean M. Buchanan Center for Entrepreneurial Leadership.
The Buchanans, both natives of Iowa, joined Drake leaders, students, alumni and faculty for a special ceremony today in celebration of the new initiative.
"I wouldn't have gone to Drake, nor would have Jean, had we not had scholarships from the University," said Bill Buchanan, who graduated from Drake in 1957 with a degree in actuarial science.
"We both worked our way through school and we were able to find success in our lives as a result of standing on the shoulders of those who went before us. We feel that we have an obligation to return some of that to the source where we were able to get that head start on our careers."
The center, which will be housed in the College of Business and Public Administration, will provide opportunities for the entire campus community. Debra Bishop, who directs the John Pappajohn Entrepreneurial Center, will serve as the initial director for the center.
Drake's Pappajohn Center will continue to focus on community outreach and efforts to promote entrepreneurship.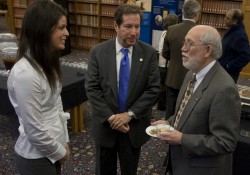 Senior Megan Fisher, Drake President David Maxwell and Bill Buchanan visit during the special ceremony.
Through the Buchanan Center, graduate and undergraduate students and faculty members in all disciplines will be able to hone the skills and tools necessary to become effective and successful entrepreneurs.
"Drake has a strong foundation in entrepreneurial programs and this gift will enable us to build on our existing strength and offer more opportunities for all students," said Drake President David Maxwell. "We are very grateful to the Buchanans for their lifelong commitment to Drake University and its students, and for their remarkably generous gift."
The entrepreneurial leadership programs aim to integrate and encourage interdisciplinary collaboration for both the professional schools and liberal arts programs.
"This new entrepreneurial program will better prepare our students to change the world — and it also distinguishes us from our peer institutions," said Charles Edwards, dean of the College of Business and Public Administration.
"By necessity, in the underdeveloped world, everyone has to be an entrepreneur," Buchanan added. "While our country has traditionally been a leader in entrepreneurship, our affluence works against risk taking and thinking 'outside the box.' It is our goal to encourage a spirit of entrepreneurship combined with intellectual and technical skills among Drake graduates."
The gift will support a full-time faculty member who will teach and oversee the entrepreneurialism curriculum, including a minor in entrepreneurial leadership that is being developed now.
The faculty member, who will also serve as the director of the center, will collaborate with the Drake community and identify and trends important to entrepreneurs.
Other plans for the center include:
An Entrepreneur-in-Residence program to teach students and connect the University with the business community

A second undergraduate faculty member who will teach additional courses

A dedicated physical space that would serve as community business laboratory for students and faculty

Additional resources to support and encourage faculty research in entrepreneurship.

An Entrepreneurial Management Certificate Program offered through the Center for Professional Studies.
Buchanan, who has served on Drake's National Advisory Council for the College of Business and Public Administration, received the University's Alumni Loyalty Award in 2007.
The Buchanans have hosted alumni receptions at their home and supported Drake students through the Buchanan Endowed Scholarship, along with contributing to other new and continuing programs of the University.
Bill Buchanan also helped to create and support the Adams/Bowers Actuarial Education Center at Drake.
He is chairman of Unified Life Insurance Co. in Overland Park, Kan., where he and his wife have a second home, in addition to their Irving, Texas, residence.
Unified Life Insurance Co. is privately owned by Bill and Jean and their children and grandchildren. It is projected to make a profit exceeding $3 million on premiums of more than $25 million for 2009.
He is known for his entrepreneurialism and consulting work and has organized, developed and managed actuarial consulting companies in Texas, Missouri and Kansas, which operate nationwide.
He has been a fellow of the Society of Actuaries since 1961 and charter member of the Academy of Actuaries since 1965.