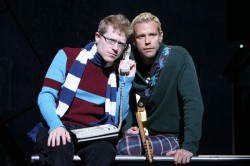 Rapp, left, as Mark Cohen with Adam Pascal in "Rent."
Anthony Rapp, one of the stars of "Rent," will hold a
question-and-answer session at Drake University from 2-3 p.m. on
Thursday, Nov. 12.
The event, which is free and open to the public, will take place in Sheslow Auditorium in Old Main, 2507 University Ave.
Deena Conley, associate professor of theater arts, and Jeff
Chelesvig, president and CEO of the Civic Center of Greater Des Moines,
will moderate the "In the Actors Studio"-style discussion.
Rapp also will sign copies of his book, "Without You: A Memoir of
Love, Loss and the Musical Rent," which will be available for purchase
at the event.
Rapp is best known for creating the role of Mark Cohen in
Broadway's "Rent," which he also reprised in the 2005 film version. He
will be in Des Moines Nov. 10-15 performing "Rent" at the Civic Center.
For more information about the show or to buy tickets, visit http://www.civiccenter.org.