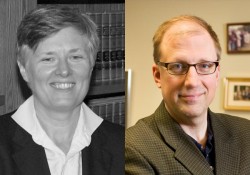 Nan D. Hunter and Thomas C. Berg
DRAKE LAW SCHOOL TO HOST DEBATE ON SAME-SEX MARRIAGE AND RELIGIOUS LIBERTY
Drake University Law School will host a debate between two scholars on "Religious Liberty Exemptions and Same-Sex Marriage" on Tuesday, Nov. 17.
The debate, which will begin at 3 p.m. in room 213 of Cartwright Hall, 2621 Carpenter Ave., will feature:
Nan D. Hunter, professor of law at Georgetown University Law Center

Thomas C. Berg, the St. Ives professor of law and associate dean for academic affairs at the University of St. Thomas School of Law
In this debate, Hunter will argue that Iowa should not try to adopt many religious exceptions and Berg will make a case that Iowa should adopt broad religious exceptions to same-sex marriage.
Hunter, a graduate of Northwestern University and Georgetown University's Law School, serves as legal scholarship director at the Williams Institute for Sexual Orientation Law and Policy at UCLA Law School.
She is the founding director of the American Civil Liberties Union's LGBT Rights and AIDS Projects. She also served as deputy general counsel at the U.S. Department of Health and Human Services from 1993 to 1996.
Hunter is co-author of the book, "Sexuality, Gender, and the Law." Her articles have appeared in the Harvard Civil Rights-Civil Liberties Law Review, Michigan Law Review and the Georgetown Law Journal, among others.
Berg holds degrees from the University of Chicago, Oxford University and Northwestern University. Before his teaching career, he practiced law at the Chicago firm of Mayer, Brown & Platt. He also served as law clerk to the Hon. Alvin B. Rubin of the U.S. Court of Appeals for the Fifth Circuit.
At St. Thomas, Berg is co-director of the Terrence J. Murphy Institute for Catholic Thought, Law, and Public Policy. He received the Religious Liberty Defender of the Year Award from the Christian Legal Society in 1996.
In 2004, the casebook he co-authored titled, "Religion and the Constitution" won the Alpha Sigma Nu Prize for best book in professional studies from the Association of Jesuit Colleges and Universities.
The event is organized by Drake's Constitutional Law Center in support of its agenda to promote awareness of constitutional law throughout American culture. Since 1987, Drake has held the distinction of being one of only four universities permanently endowed by Congress to promote study of the Constitution.
For more information about the lecture, contact Drake Law School at 515-271-2988.