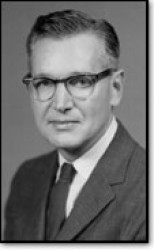 Leonard P. Good
The Fred Jones Jr. Museum of Art in Norman, Okla., is featuring art by the late Leonard P. Good (1907-2000), who served as professor and chair of Drake University's art department from 1952-1968.
Good, who was a native of Oklahoma, is one of the Oklahoma and New Mexico artists whose work is featured in the exhibition.
The
exhibit
, which will run through Sunday, Jan. 3, is located at the Fred Jones Jr. Museum, 555 Elm Ave., Norman, Okla.
It is titled, "Sooners in the Land of Enchantment: Oklahoma Artists and New Mexico," and features works from the art collection of the University of Oklahoma, Good's alma mater.
His paintings and drawings have been exhibited nationally and are included in both public and private collections. He was also known as an exceptional educator, highly esteemed by both faculty and by students at Drake.