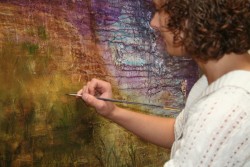 Ashley Storm, a junior painting major and music minor from Des Moines, works on her astronomically inspired painting.
DRAKE EXHIBIT COMBINES ART WITH ASTRONOMICAL RESEARCH
Drake University students in Angela Battle's painting classes are collaborating with Charles Nelson, associate professor of physics and astronomy, to create artwork inspired by astronomical forms.
The finished pieces will be on display from Friday, Nov. 20, through Friday, Dec. 18, in Drake's Anderson Gallery in the Harmon Fine Arts Center, 2505 Carpenter Ave.
An opening reception will be held at 5 p.m. on Friday, Nov. 20. The reception and exhibit are free and open to the public. Gallery hours are noon to 4 p.m. Tuesday – Sunday.
Nelson presented the students with information about active galactic nuclei, which he described as "powerful energy sources in the center of a large galaxy in which material falls into a black hole of a million solar masses or more."
Nelson also provided the art students with a Web site featuring images taken by NASA's Hubble telescope.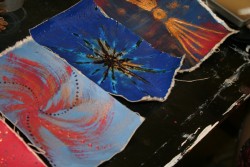 Artworks by Lucca Wang.
Nelson's
site
can be viewed online. The Des Moines Register also has published a
story
about the exhibit.
"Art and science are both used to respond to or make sense of the world," Nelson said. "This project emphasizes how scientists use their visual senses to aid in interpreting data. Astronomy is inherently visual."
"It's a great way to collaborate with another discipline," said Lucca Wang, a junior painting and public relations double major from Lawrence, Kan. "Art and science are linked in many ways."
While this is the fifth such partnership, or "Professor Project," that Battle has organized, it is the first year that the project will be showcased in the Anderson Gallery.
Battle said that the venue provides "a true artist's gallery space and allows for a greater freedom of visual responses in both scale and concept."