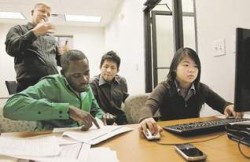 Toby White, assistant professor of finance and actuarial science, works with interns Wole Aluko-Olokun, Adrian Kuah and Becky Hiu.
Four Drake University finance majors are in their second year of a trial apprenticeship program designed to give undergraduate students hands-on experience without sales pressure at River Glen Wealth Management in West Des Moines.
The students receive one-on-one mentoring with owner Matt Busick, as well as curriculum instruction that Busick developed in collaboration with Drake finance professors. The curriculum both compliments and builds upon what students learn in their courses at Drake, but with greater focus on case studies and client work.
"The difference is taking what you learn in the textbook and applying it in a practical way," said Wole Aluko-Olokun, a junior economics, finance and accounting triple-major. "It goes beyond one line of business, or one practice, to maximize everything I'm learning."
The full story is available online through the Des Moines Register.
Photo courtesy of the Des Moines Register.