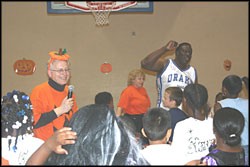 Lovell and Pulliam entertain Des Moines youth.
Nearly 250 children ages 3-12 came out for basketball and Beggar's Night at the 16th annual Drake University Community Halloween Hoops Shoot Out on Thursday, Oct. 29.
The event featured basketball contests from Free Throws and Lay Ups to Over the Backboard Shot, as well as Halloween fun including:

Face painting
Musical chairs
Hula Hoops
Twister
Bobbing for apples
Piñatas
"I had a smile on my face about a mile wide because I was delighted to see how much fun the children were having," said co-host and Drake basketball legend Dolph Pulliam, director of community outreach and development.
"Some of the parents who brought their children to this event for the first time said that when it was time to leave their children started crying — they didn't want to go because they were having so much fun!" he added.
Pulliam and Drake Law School Associate Dean Russ Lovell hosted the shoot out, which is co-sponsored by the Drake Law School Student Bar Association and the Des Moines branch of the NAACP.
In addition, members of Delta Theta Phi, Drake's professional law fraternity, and Equal Justice Works, a national law organization, set up the facility and assisted at the event.
Volunteers decorated, played games with the children and supplied plenty of candy — enough for each child to take home a bag. Pizza and soda pop were provided as well.
"Our Drake law students did an awesome job interacting with the kids and having fun themselves," Pulliam said. "They have done a lot of work to make this event successful."