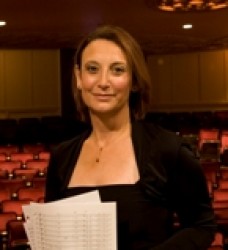 Cathy Lesser Mansfield at a rehearsal of her opera.
Drake University Law School professor Cathy Lesser Mansfield, who composed and produced an opera about the Holocaust, will give the Marvin and Rose Lee Pomerantz Lecture at the University of Iowa on Tuesday, Nov. 10.
Mansfield's lecture, "The Sparks Fly Upward: Learning About the Holocaust, Defying Genocide," will feature selections from "The Sparks Fly Upward" performed by University of Iowa School of Music students and faculty.
The free, public lecture will take place from 7 to 9 p.m. in the University of Iowa Music Recital Hall, located in 1670 University Capitol Center, Iowa City.
The lecture is part of a two-week celebration marking the 10th anniversary of the University of Iowa Center for Human Rights. The center is co-sponsoring the lecture along with the U.S. Holocaust Memorial Museum and The Sparks Fly Upward Foundation.
The celebration features lectures, a film series, panel discussions and performances, all of which are free and open to the public.
For more information, visit www.uichr.org or contact Amy Weismann at amy-wesmann@uiowa.edu or 319-335-0483.