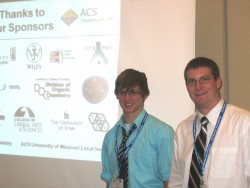 Left to right: Ryan Johnson and Andrew Johnson.
Drake University junior chemistry majors Andrew Johnson and Ryan Johnson recently shared their research and expertise with industry professionals at the
American Chemical Society conference.
The students were part of the 44th Annual Midwest Regional Meeting on Oct. 21-24, held in Iowa City, Iowa, and sponsored by the University of Iowa.
"The experience was amazing!" said Ryan Johnson of Des Moines. "In addition to my presentation, watching other graduate students and doctors in chemistry present, gave me a look into what to expect of my future."
The students witnessed presentations that covered topics such as physical chemistry, organic chemistry, inorganic chemistry and some that integrated physics and entomology.
"It was very exciting to see all the cutting edge research going on in the Midwest," said Andrew Johnson of Chanhassen, Minn. "Having the opportunity to not only attend, but to participate as a peer, to researchers all over the Midwest was phenomenal. It's exciting to get to present my research to other scientists and hear their feedback."
"We also saw presentations by representatives from graduate schools providing information about graduate programs," Ryan Johnson said. "As undergraduates, we were in high-demand."
Both students have been working on research projects and prepared for their presentations with research adviser Mark Vitha, Drake associate professor of chemistry.
Ryan has been collaborating with Vitha for more than a year doing research in Vitha's lab. His research was funded by a grant from the American Chemical Society Petroleum Research Fund, along with support from the Drake University Science Collaborative Institute program (DUSCI), which he participated in last summer.
Ryan Johnson gave an oral presentation on "Spectroscopic Characterization of Solvatochromic Dyes," which studies the light-absorbing properties of dyes that have interesting applications, such as those that are used to make laser colors.
"Our goal is to understand the effects of different solvents on the light-absorbing properties of the dyes and thereby better understand the fundamental chemical behavior of these dyes," Vitha said.
Also a biochemistry, cell and molecular biology major, Andrew Johnson was funded by and participated in the DUSCI summer program and worked with Vitha last spring and in Vitha's lab last summer.
His presentation, "The development of the system selectivity cube," and research focuses on separation science, which involved separating mixtures of chemicals, such as gasoline and environmental samples, into their individual components.
"Andy's work uses a 3-D visualization method to determine if one separation system will yield similar or different results from another one," Vitha said. "It's very useful in a practical sense because it can save a lot of time by preventing analysts from trying any two separation systems that are alike."