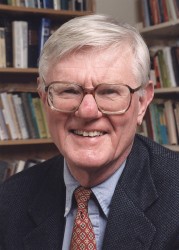 Gordon Wood
Drake University will host historian and author Gordon S. Wood on Thursday, Nov. 5, for a presentation on the purpose of history, with a focus on the life of former U.S. President John Adams.
The talk, which is free and open to the public, will begin at 7 p.m. in the Cowles Library Reading Room, 2725 University Avenue.
Topics in Wood's presentation will be centered on the traveling presidential exhibit "John Adams Unbound," which includes photo reproductions of many of Adams' books and personal effects. The exhibit is being featured in Cowles Library through Dec. 11.
Wood is the Alva O. Way University Professor Emeritus of History at Brown University. His lecture will be based on his latest book, "The Purpose of the Past: Reflections on the Uses of History."
Before joining the faculty at Brown in 1969, Wood taught at Harvard University and the University of Michigan.
He received the Pulitzer Prize for History in 1993 for his book "The Radicalism of the American Revolution." In 1970, he also won the Bancroft Prize for "The Creation of the American Republic, 1776-1787."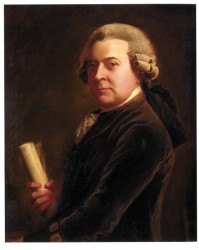 John Adams
"John Adams Unbound" is sponsored by Drake's "Citizens Arise!" series, a multi-year initiative that aims to inspire students, teachers and citizens to responsible citizenship. Its goal is to encourage all to learn about the history, development and uses of the democratic process as an instrument for managing the challenges of the 21st century.
The series will continue on Tuesday, Nov. 17, with a lecture by Beth Prindle, manager of the John Adams Library Project at the Boston Public Library and curator of "John Adams Unbound." The talk will begin at 7 p.m. in the Cowles Library Reading Room.
"John Adams Unbound" has been organized by the Boston Public Library and the American Library Association Public Programs Office. This traveling exhibition has been made possible by a major grant from the National Endowment for the Humanities: great ideas brought to life.
For more information about the lecture or the exhibit, contact Claudia Frazer at 515-271-3776 or
claudia.frazer@drake.edu
.