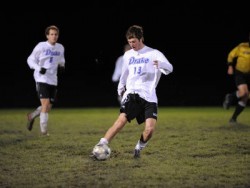 Thomas Ostrander
The Drake men's soccer team will get an opportunity to shine in the
national spotlight when the Bulldogs' Missouri Valley Conference
showdown at Evansville this Friday, Oct. 23, is televised
nationally.
The showdown will be shown live at approximately 7 p.m. on the Fox Soccer Channel as the National Soccer Coaches
Association of America (NSCAA) College Game of the Week.
No. 24 Drake (9-4-1, 4-1-0 MVC) will face the Purple Aces (9-4-1,
3-2-1 MVC) in a key MVC match-up. The Bulldogs downed Evansville at home on Oct. 10, 1-0, on sophomore Thomas Ostrander's goal in the
89th minute.
Game time is slated for 7:07 p.m. at Black Beauty Field at Arad
McCutchan Stadium in Evansville, Ind.
Dean Linke, radio voice of the United Soccer Leagues' Carolina
RailHawks, will handle play-by-play responsibilities. He will be
joined in the booth by color commentator Keith Tabatznik, who recorded 220
career wins in 22 years as men's soccer coach at Georgetown
University.
On Wednesday, Oct. 21, the Bulldogs garnered goals from three different players and overcame a persistent rainstorm to earn a 3-0 Missouri Valley Conference victory over Eastern Illinois at the Cownie Soccer Complex.
"Tonight was very rewarding because we were able to beat a good opponent while resting key players," Bulldog head coach Sean Holmes said. "We've been striving all year to show that we have depth to our team and today was concrete evidence to that."