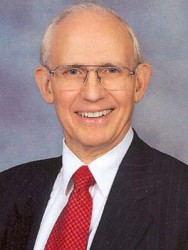 Carl Staplin
Carl Staplin, professor emeritus of organ and church music at Drake University, will perform at 3 p.m. Sunday, Oct. 25, at First Christian Church, 2500 University Ave.
The concert, which is free and open to the public, is in honor of Drake alumni Don and Marian Easter.
Don Easter served for many years on Drake's Board of Trustees. He also chaired Friends of Drake Arts and was an active member of numerous Drake organizations, including the National Commission on the Future of Drake and the Francis Marion Drake Society Board of Directors.
He received Drake's Alumni Distinguished Service Award in 1984 and the Drake Medal of Service in 1993.
The concert will feature Bach's Toccata and Fugue in D minor Adagio from Symphonie No. 6, as well as works by Windor, Haydn, Franck and Dupré.
Staplin came to Drake in 1967 and developed an organ performance program for students. Three new organs were installed during his tenure.
Staplin, who retired from Drake in 2006, serves as organist and minister of music at First Christian Church. For more information about the concert, visit www.fccdm.org or call 515-255-2181.