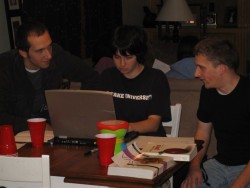 Travis Smith, Ashley Clark and Mark Czervionke practice their skills.
Drake University students will participate in the 34th annual Association for Computing Machinery (ACM) International Collegiate Programming Contest — the world's most prestigious international competition in computer programming.
Referred to as 'Battle of the Brains,' the competition is sponsored by IBM and draws participants from 90 countries on six continents. Drake students, who compete in teams of three, will begin by facing off against Grandview University on Saturday, Oct. 31.
Tim Urness, Drake assistant professor of computer science and the teams' coach, reported that this year has garnered the most student interest, with enough participants to fill seven teams.
Students prepare for the competition independently, through Drake's computer programming courses and other experience. Urness also will host a "programming party" for the participants, which will include an intra squad programming contest and a "Ms. Pac-Man" tournament.
"My main goals with this competition are to get students involved in computer science, develop camaraderie amongst students, and to show students that computing can be really fun," Urness added.
Competitors major in a variety of areas and range from first-year to senior level students.
"The more programming the students are exposed to, the better they typically do," Urness said. "Most of our upper-level computer science majors are usually quite competitive, but I've also seen a team of freshman students score well."
The regional contest will challenge teams to solve the equivalent of a semester's worth of complex, real-world computer programming problems in under a five-hour deadline. The team that solves the most problems correctly in the least amount of time will win a spot on the World Finals roster.
Of the tens of thousands of college students expected to enter, the top 100 regional team champions will meet in the World Finals, to be held Feb. 1-6, 2010, in Harbin, China.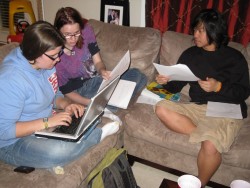 Amanda Godek, Brooke Campbell and Daniel Park collaborate during a practice session.
This year's theme, "A Smarter Planet," follows an IBM initiative to
infuse intelligence into society and technology and encourages students
to create smarter software to make the planet more efficient.
Drake seniors Creston Flemming and Travis Smith are competing for
the third year, because of the event's valuable programming experience.
"The contest simulates real world programming more closely than
many computer science classes since assignments do not have the urgency
like the programming contests," said Flemming, of Greenfield, Wis., a
triple major in computer science, math and biochemistry, cell and
molecular biology.
"I like doing the contests because it gives me the opportunity to
practice critical thinking in a fast-paced environment,"said Smith, a
computer science major of Urbandale. "Although the competitions are
long, they are very enjoyable."
ACM is the world's largest educational and scientific computing
society, uniting computing educators, researchers and professionals to
inspire dialogue, share resources and address the field's challenges.
For more information about Battle of the Brains, visit the competition's Web site at http://acmicpc.org.