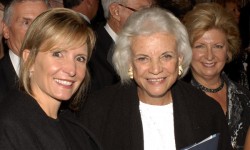 Melissa Weresh meets retired Justice Sandra Day O'Connor during a reception at the Supreme Court.
Melissa Heames Weresh, professor of law at Drake University, recently accepted the 2009 Warren E. Burger Writing Competition Prize at an awards ceremony in the chambers of the U.S. Supreme Court in Washington, D.C. She received the prize for her essay that examines the professional identity development of novice lawyers.
The award presentation was part of the American Inns of Court's Celebration of Excellence hosted by Justice Antonin G. Scalia on Saturday, Oct. 17. Kenneth Starr, dean of the Pepperdine University School of Law and a former law clerk for Justice Burger, presented the award to Weresh.
Weresh's essay was chosen by a distinguished panel of law scholars in a blind contest. The writing competition aims to encourage outstanding scholarship that "promotes the ideals of excellence, civility, ethics and professionalism within the legal profession."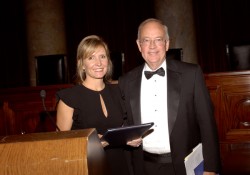 Melissa Weresh stands with Kenneth Starr after the award presentation.
"This is a tremendous honor," said Weresh, who also serves as director of legal writing at Drake University Law School. "It was both daunting and inspiring to speak at the United States Supreme Court, and the evening was made so special because my family was able to be there with me."
Weresh, a resident of Clive, has written several books and many articles on legal writing, environmental law and ethics and professionalism. Her most recent book, written with Drake law professor Lisa Penland, is titled "Professionalism in the Real World: Lessons for the Effective Advocate," published by the National Institute for Trial Advocacy.
"This is a well-deserved recognition of both the quality of Professor Weresh's work and the strength of Drake Law School's writing and professionalism programs," said Law School Dean Allan Vestal. "This achievement is yet another indication of the overall strength of the Law School."
Weresh's essay, titled "I'll Start Walking Your Way, You Start Walking Mine: Sociological Perspectives on Professional Identity Development and Influence of Generational Differences," will be published in the South Carolina Law Review.
Weresh is the chair of the Professionalism Committee of the Iowa Bar Association, and she serves on the Board of Directors for the Legal Writing Institute and on the Editorial Board of the Journal of the Association of Legal Writing Directors.
She is also the chair-elect of the Teaching Methods section of the Association of American Law Schools. In addition, she is the author of a textbook titled "Legal Writing: Ethical and Professional Consideration," published by Lexis/Nexis.
Before joining Drake in 1997, she was an associate with Buckingham, Doolittle and Burroughs in Akron, Ohio. There, she concentrated on environmental compliance and corporate transactional issues.
Note: Photos courtesy of A. Paul Herrera Photography in Urbana, Md. View more photos of the celebration at the Supreme Court.