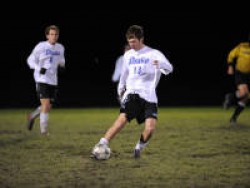 Thomas Ostrander, center, scored the game-winning goal in Drake's 1-0 victory over Evansville.
The Drake men's soccer team continued its climb up the national polls this week as the Bulldogs equaled their highest ranking in school history, checking in at No. 19 in the National Soccer Coaches Association of America (NSCAA) Top-25 poll released today (Tuesday, Oct. 13).
On the strength of a pair of shutouts last week, Drake moved up three places from No. 22 to No. 19 in this week's tabulation. The ranking equals the highest in school history, as the Bulldogs were tabbed No. 19 in the Sept. 30, 2008, NSCAA poll.
Drake will have its ranking tested this week by facing a road date at Creighton on Wednesday, Oct. 14, before hosting Missouri State on Saturday, Oct. 17. Both games start at 7 p.m.


Drake sophomore named MVC Offensive Player of the Week
Drake sophomore Thomas Ostrander (Fort Dodge, Iowa/St. Edmond Catholic) was honored as the Missouri Valley Conference Offensive Player of the Week, the league announced on Monday, Oct. 12.
The accolade marks the fourth occasion this season a Drake player has been recognized with weekly conference laurels and the second time that the Bulldogs have captured the top offensive award.
Ostrander was instrumental in helping the 22nd-rated Bulldogs to a 2-0 mark last week, registering four shots, including a pair on goal.
His goal in the 89th minute (88:23) against Evansville last Saturday, Oct. 10, lifted Drake to a dramatic 1-0 victory over the Purple Aces. The tally was the second of the season for Ostrander, who owns two goals and a pair of assists on 16 shots this fall, including seven on net.
More information about men's soccer is available at www.godrakebulldogs.com.